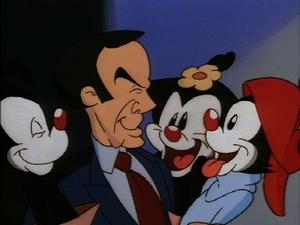 Dan Anchorman is a conceited news anchorman for the fictitious Newstime Live programme, who refused to pay Yakko, Wakko and Dot for a sandwich he had ordered. Appears in Broadcast Nuisance. Originally named Slam Fondlesome, his name changed after the episode got censored between its Fox and Kids WB airings. The episode itself was edited and truncated to make the Warners less cruel to the character.
Ad blocker interference detected!
Wikia is a free-to-use site that makes money from advertising. We have a modified experience for viewers using ad blockers

Wikia is not accessible if you've made further modifications. Remove the custom ad blocker rule(s) and the page will load as expected.